Our Story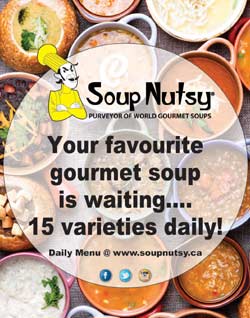 The story of Soup Nutsy began with a very popular TV program in the mid-1990's, called Seinfeld.
The creators of Seinfeld never turned down a good opportunity for more viewers. That's why they made a leap of faith and integrated a local sensation to their show: the cantankerous chef of a Manhattan restaurant, who was famous for his distinctively strict ordering rules or NO SOUP FOR YOU!.
The popularity of this small take-out restaurant was the talk of the town and of course, a good enough reason for the Seinfeld creators to capture the hype and create an episode about it. Hence the SOUP NAZI was aired. You can view Soup Nazi episode on YouTube.
Today, Soup Nutsy operates several successful restaurants in Toronto's underground PATH with constant line-ups. You can order a broad variety of gourmet soups, salads, sandwiches and more. Chances are, on any given day in downtown Toronto you will see many satisfied customers carrying their Soup Nutsy bags to and from our restaurants.
We look forward to serving you soon!
Our Soups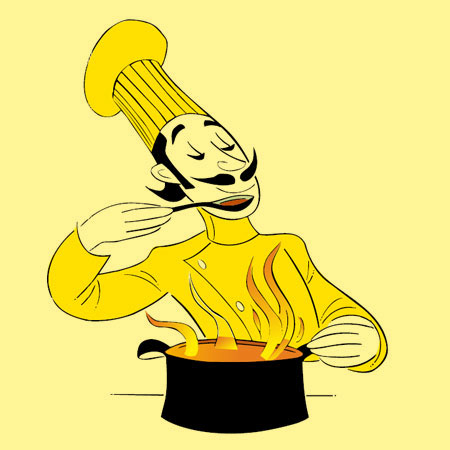 Soup lovers can judge a great gourmet soup not only by how well it is cooked, but also by the taste and the quality of the ingredients.
Our aim is to create easy-to-recognize, wide variety of soups that surpass expectations any time. Our hearty, rich soups will satiate your cravings and give you energy for the whole day.
Our Mission: High Quality & Fresh Soup Ingredients
At Soup Nutsy, we never compromise in the preparation of our soups.
Using only the finest quality ingredients, our soups are cooked slowly in cast iron kettles in order to ensure that each serving is flavourful and delicious. All our gourmet soups are served with freshly baked bread, fresh fruit or vegetables. You will get a complete meal that is thoroughly nourishing, high in nutrition and tastes great.
Additionally, we offer freshly prepared sandwiches and salads as a combo option with our gourmet soups.
Every day, Soup Nutsy offers at least 15 varieties of gourmet soups, selected from a repertoire of over 200 recipes – sure to please any taste preference. Our gourmet soup recipes are rotated daily depending upon selection and availability of fresh produce and ingredients. They are prepared and cooked on our premises providing a distinct daily variety of meat, poultry, seafood, vegetarian, vegan and gluten-free soups.
Using the finest ingredients to make the best tasting gourmet soup varieties, you will feel the purity and taste the wholesome quality in every gourmet soup you eat…
Our Food
GOURMET SOUPS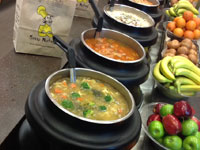 A selection of meat & poultry, vegetable, seafood and chilled gourmet soups prepared fresh daily that include dairy-free, gluten-free, low-fat, vegan and spicy options.

Our selection of soups changes daily. If you cannot find your favourite gourmet soup at your select location you may find your favourite soup at another.
MARKET FRESH SALADS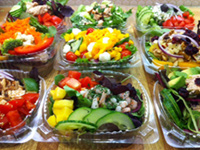 An array of freshly made salads prepared with fresh produced delivered daily that includes poultry, seafood, cheese and much more – packaged and ready to go.
SANDWICHES & WRAPS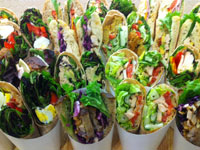 Sandwiches and wraps made with the finest quality ingredients offering a wide variety to please everyone. Packaged and ready to go. Our sandwiches and wraps are MADE DAILY and SOLD DAILY.

Gluten free available upon advance ordering.
BREAKFAST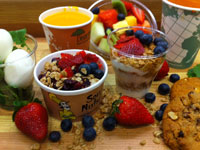 Offering nutritious and delicious sipping soups, broths, steel cut oatmeal, and a variety of other healthy options to start your day off on the right track.
BEVERAGES & SNACKS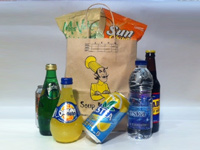 A variety of fresh baked cookies, potato chips and cold beverages are always on display for you to enjoy with your lunch or a snack any time of day.
Green Mission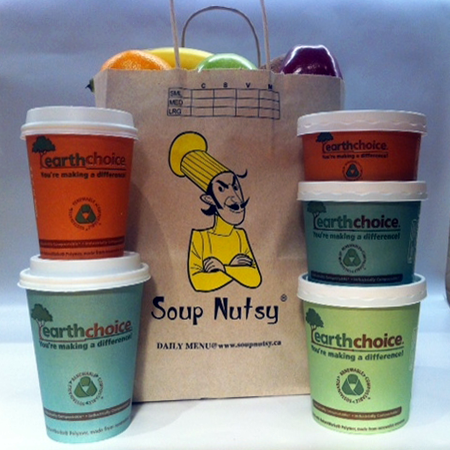 Help us Reduce & Re-Use
At Soup Nutsy, we are doing our part to help in environmental and sustainable practices.
Help us REDUCE and RE-USE by bringing back your Soup Nutsy bag on your next visit and save .25 off your purchase. Limit: one bag per purchase
Where possible, our packaging is recyclable or biodegradable. All of our internal waste is separated into organic, recyclable and regular garbage for efficient disposal.